Security Access Reviews can cross all borders, boundaries, and platforms
Fastpath Assure Enables Cross-Platform Access Risk Reporting & Segregation of Duties Analysis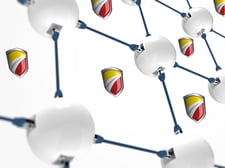 DES MOINES, IA Nov. 29, 2016 - Fastpath Assure now allows cross-platform segregation of duties and user access analysis. The new release of Assure provides risk visibility and mitigation across multiple ERP, CRM/XRM, HCM, and custom applications simultaneously. Previously, reviews were typically siloed by target system. Now the same reviews can be run concurrently across all in-scope applications using the same interface and methodology. This creates a much more efficient and repeatable way to maintain security and manage risk.
In addition, permissions from disparate systems can now be added to the same business process to enable a true picture of access required to complete job functions. "The new cross platform functionality is exciting because it allows visibility between key applications," said Andy Snook, CEO at Fastpath. "If a user needs access to SalesForce and SAP to create a customer at an organization, we can now accurately provide those details to an administrator or an auditor. With traditional platforms, that just wasn't possible."
Until now, corporations using multiple enterprise software packages would have to run separate reviews using different auditing software tools and methodologies. Many times, this would result in combining results in complex Excel spreadsheets. The latest Fastpath Assure release unifies these reviews, becoming the only tool enabling a cloud-based cross platform analysis for all software supported by Fastpath.
"This is something that our audit partners have been asking, even wishing for, for a few years," commented Frank Vukovits, Director of Strategic Partnerships. "This new cross platform approach moves us further away from spreadsheet driven, manual, unreliable analysis and towards a clearer picture of how enterprise software operates in an integrated environment."
The development of cross platform review is also beneficial for mergers and purchases. It can be extremely expensive to transfer a new acquisition to a different ERP. Now, from an audit standpoint, ERP consolidation isn't necessary. Currently, the Fastpath Assure tool can integrate with Oracle EBS, NetSuite, SAP, SalesForce, Intacct and all forms of Microsoft Dynamics, including AX, NAV, GP, SL, CRM and 365.
Fastpath Assure is a leading governance, risk management and compliance (GRC) tool. The tool was developed to analyze the risks within user access and report segregation of duties conflicts present within such access. Software administrators, business process owners, and auditors can then use the analysis to either adjust user access or record mitigations of the conflicting access. Fastpath Assure comes with a customizable conflict framework and ruleset that was developed by the Fastpath team of auditors.
To download the full press release click here.