Fastpath Leads the Pack as #1 IT Risk Management Solution in G2 Fall 2022 Report
By Fastpath
11/15/2022
2min read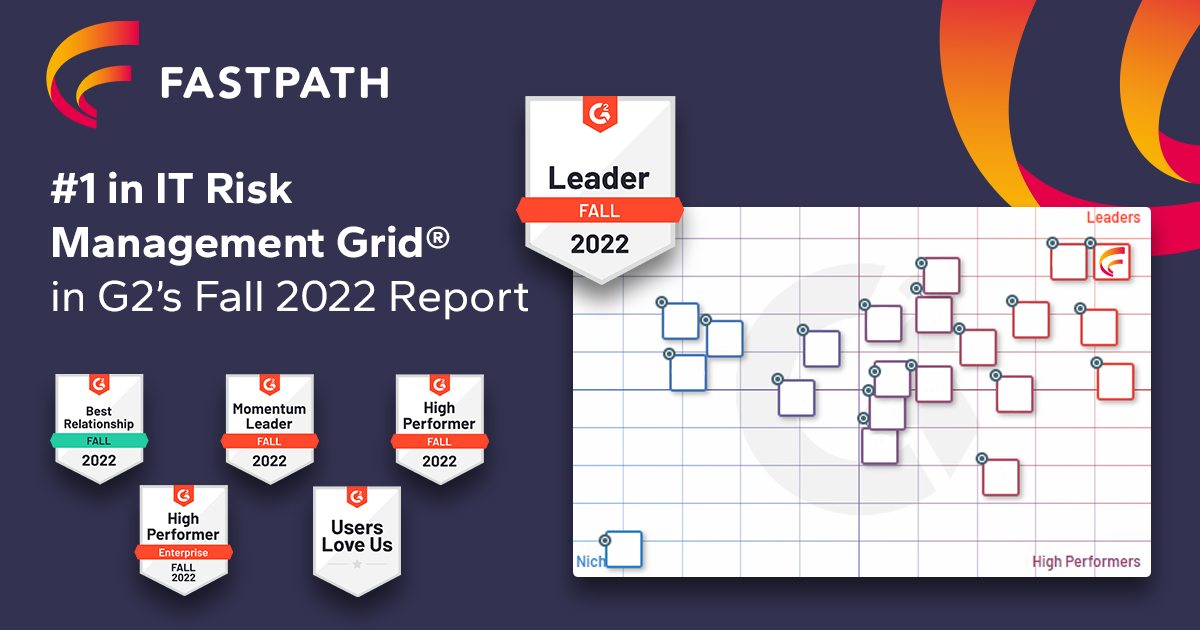 Fastpath ranked number one in the Fall 2022 Grid Report for IT Risk Management from G2.com. This marks the first time Fastpath has led the pack in this competitive subsection of IT Risk Management solutions. Fastpath was also awarded the Best Relationship badge in the same category marking the third time Fastpath has garnered this accolade for the quality of support and strong relationships built with customers.
G2.com's Relationship Index for IT Risk Management is calculated based on real-user satisfaction ratings, consistent with other awards Fastpath receives based on consistently positive user feedback.
"Fastpath continues to grow and excel customer expectations. These badges exemplify the hard work and dedication that our team puts in day in and day out. Team work makes the dream work."
...said Frances Fenemore, Chief Marketing Officer of Fastpath.
Fastpath has also earned recognition in the following areas of the G2 Fall 2022 Report:
Leader, Enterprise Grid® Report for IT Risk Management
Momentum Leader, Momentum Grid® Report for Audit Management
Momentum Leader, Momentum Grid® Report for IT Risk Management
Leader, Grid® Report for Audit Management
High Performer, Enterprise Grid® Report for User Provisioning and Governance Tools
High Performer, Grid® Report for User Provisioning and Governance Tools
See what our customers are saying:
"Identity has been crucial for our business on access reviews. Fastpath has saved time and costs on additional audits. Easy to use and set up. Would strongly recommend this product. The Fastpath team has been accommodating on setup and training. It's been an absolute pleasure to work with them."
"Easier and faster to perform access control reviews. When you have all security roles or SOD-risks assigned to your users, Fastpath saves you a lot of time. We have been able to complete our reviews in around a month instead of it taking 2-3 months. Also, the Access Control module will save you hours and dollars when designing roles and decreasing license costs."
"Within any large-sized organizations there are a good number of moving pieces. When individuals move companies/roles, it results in potential risks like access deprovisioning or segregation of duty conflicts. Fastpath is a great analytics tool that my team utilizes to track any conflicts at a point-in-time. Historically our process involved running 4+ different reports to analyze SOD conflicts, but after meeting with the support engineers we were able to reduce the process to a click of one button."
Learn more about why companies continue to choose Fastpath to help with their security, audit, identity management and compliance needs by checking out our G2 reviews. Or see it for yourself by scheduling a personalized demo here.