Fastpath Rated #1 IT Risk Management Solution in G2 Winter 2023 Report
By Fastpath
01/19/2023
2min read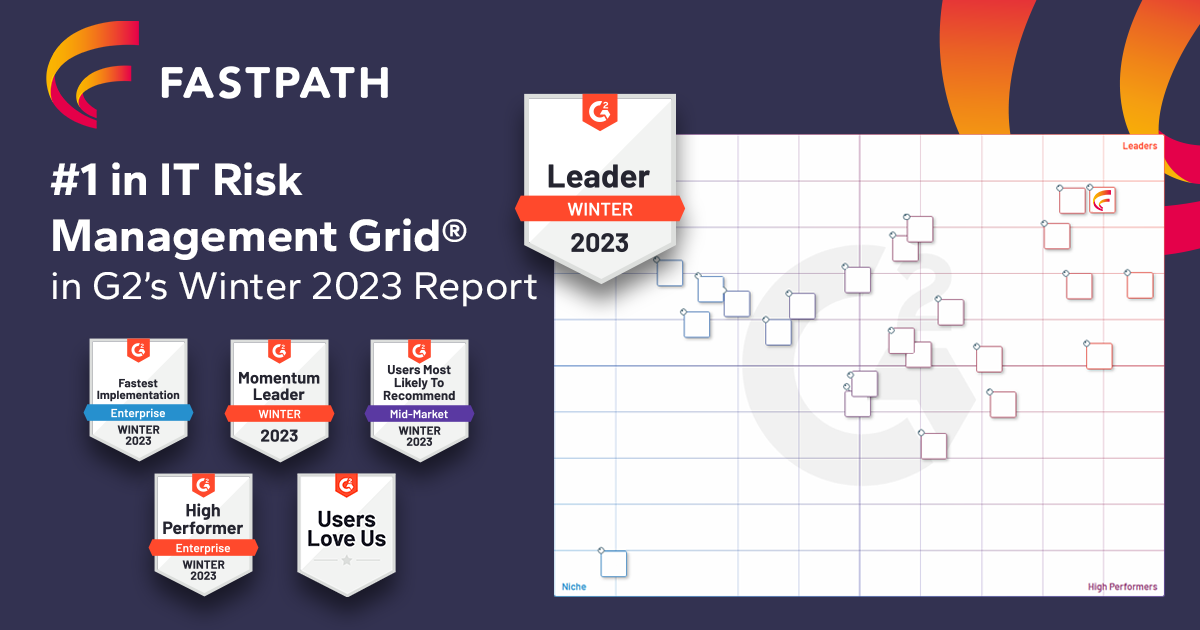 Fastpath has once again ranked number one in the Winter 2023 G2.com Grid Report for IT Risk Management, for the second quarter consecutively. In the Mid-Market reports for IT Risk Management, Fastpath is also number one in both the Grid Report and the Relationship Index.
G2.com's Relationship Index for IT Risk Management is calculated based on real-user satisfaction ratings, consistent with other awards Fastpath receives based on consistently positive user feedback.
In all, the company garnered 24 badges for the quarter; including Best Relationship, Leader, Users Most Likely To Recommend (Mid-Market), Best Support (Mid-Market), and Fastest Implementation (Enterprise).
"Fastpath is honored to consistently earn top level awards and badges through G2. As we continue to grow and provide value to our customers, their feedback is invaluable. It helps us know we are on the right track and where we can improve."
…said Mark Polino, Director of Customer Success at Fastpath
What our customers are saying:
"We love the UI. Things are easy to find and intuitive to understand. There is a lot of flexibility to customize reports. The time it takes to do SOD analysis is greatly reduced versus trying to do this manually in NetSuite. We love being able to now focus on actual SOD analysis and little-to-no time crafting the reports to get the data itself."
"Fastpath is provided with setup specific to the tools we use. So more than 100 predefined business processes and potential risks are there to help with rapid implementation. We are able to complete our quarterly reviews of role SoD conflicts, user role assignment and user access quickly with evidence stored in Fastpath for future audits or review."

"The time to get Fastpath installed and running was a matter of weeks! The training sessions were easy to access and the support team was very proactive with answering questions."
Learn more about why companies continue to choose Fastpath to help with their security, audit, identity management and compliance needs by checking out our G2 reviews. Or see it for yourself by scheduling a personalized demo here.