ROBUST REPORTING AND MONITORING TOOLS WITH BUILT-IN AUDIT INTELLIGENCE.
Fastpath GRC Studio is a security access certification and segregation of duties compliance tool that gives organizations the ability to monitor access across multiple, disparate systems from a single platform.
Our solution enables efficient data gathering and risk identification allowing users to have a greater focus on analysis and evaluation of controls while the built-in workflow allows users to propose, approve and implement conflict resolutions/mitigations throughout the review process.
Designed by auditors for auditors, Fastpath GRC Studio is a comprehensive, interactive tool providing continuous controls monitoring helping users to better understand their security while effectively meeting the needs of their internal and external audit teams.
Interested in a demo or purchasing?
Contact Us
GRC Studio FEATURES
Analyze risks & conflicts across multiple, disparate systems
Single platform for automated security analysis and documentation
Integrations with ERPs, CRM/XRM, Legacy and Custom applications
Customizable report set with automated delivery
Standalone applications with minimal performance impact
Current State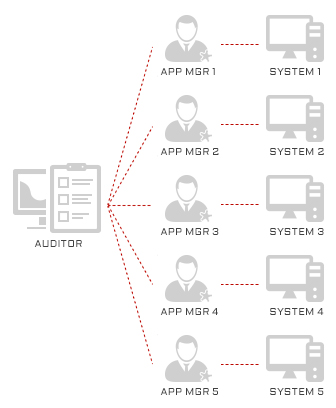 Future State