So Much Compliance: So Little Time - An Inside Look At Tax Compliance For Dynamics ERPs
Compliance - it's something that can be difficult to achieve without the proper tools. With such a vast number of compliance laws, it can often seem like an endless challenge in which you are making little progress. Unfortunately, compliance laws are an unavoidable, statutory requirement leaving many companies scrambling in an effort to become "compliant".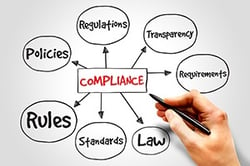 One particular Compliance category that applies to many companies is Tax Compliance. Keeping up with the ever changing sales tax rates across the many counties throughout the U.S. is nearly impossible for a single book keeper or even accounting team. As a matter of fact, with an average cost of $96,552 and an average audit penalty of $34,000 we can see just how tedious Tax Compliance can be. Luckily, there are ISV's out there such as Avalara who have made the ever dreaded Tax Compliance task much simpler.