Setting the Pace in Cross-Application Access Security, Audit and Compliance
Fastpath Awarded with Most Promising SAP Solution Providers 2021 from CIO Review
Organizations everywhere are leveraging best-of-breed technologies to become more agile and more efficient, utilizing tools like SAP for their ERP, Workday for their HCM, Salesforce for their CRM, ServiceNow for their ticketing, and Coupa for their procurement, to name a few. However, this approach leaves organizations managing hybrid cloud and on-premises deployments from multiple vendors, on multiple dashboards, comprising the front, middle, and back-office. Many organizations using lackluster access risk management systems and manual provisioning processes are at risk of segregation of duties (SoD) conflicts, failed audits, fraud, and regulatory fines. To remedy this, organizations need to update their SoD frameworks and modernize their risk management approach to be automated and persistent.
Fastpath has been setting the pace with our comprehensive platform designed to help organizations automate risk analysis, manage segregation of duties, and simplify regulatory compliance. Fastpath's ability to enable organizations to perform cross-application access review management for their SoD concerns in a single console has set us apart.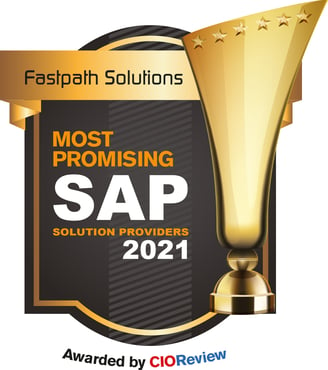 Our latest accolade comes from CIO Review, a leading technology publication, that has awarded Fastpath with Most Promising SAP Solution Providers 2021. Our focus is helping organizations secure their ERP platforms and auxiliary applications to improve their risk and compliance posture. We started working with SAP solutions in 2018 and have since released needed and specialized SAP capabilities that have generated great value to our customers. From our Security Designer enabling SAP customers to simulate security role changes and check the impact of potential user access conflicts to our SAP Custom Code Checker that interrogates custom code line by line to identify any indirect or unintended access being granted to a user. And now with cross application access including SAP-Workday-Salesforce-Coupa-ServiceNow and more, organizations can meet their global security, audit and compliance objectives with Fastpath.
Our team will continue to set the pace as we delve into R&D, preparing for the new technologies that are around the corner with SAP S/4HANA. This award further invigorates our focus as we aim to continue to help organizations to secure their environments and minimize their risks. To learn more about the award please visit the CIO article available here.
With all of this activity our team continues to grow! If you are interest in becoming part of this dynamic team, you're in luck! We are hiring an SAP API Application Engineer! Click here to view the job listing.