Oracle GRC Sustaining Support - Alternative Solutions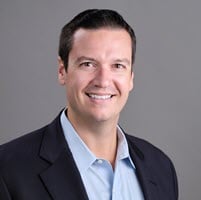 Notice to Oracle users: If you are still using Oracle's GRC (a.k.a. Oracle Advanced Controls or OAC) on-premise software products, Oracle is no longer fully supporting these products and they are, indefinitely, on Oracle's very limited Sustaining Support .
Oracle will continue to provide Severity 1 fixes through May 2025 (according to their July 10, 2020 Oracle Software Technical Support Policies) however, there are caveats to what a Severity 1 vs a Severity 2 support request is.
For Oracle Support to classify a service request (SR) as Severity Level 1, among other items, it must be so severe that you experience a 'complete loss of service' and 'the operation is mission critical to the business'.
Here is a summary-at-a-glance of what Oracle's Sustaining Support does not include: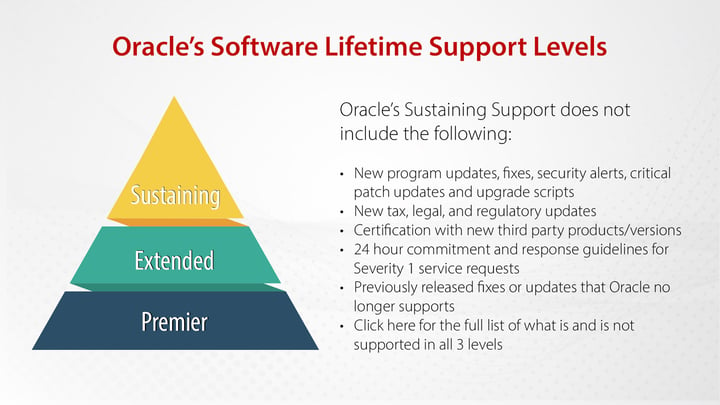 What does this mean for Oracle GRC users?
Oracle will not be making any new major updates.
While your organization may still own the licenses for the OAC Products, Oracle will not be fully supporting nor enhancing these products moving forward.
We recommend you review Oracle's policies as they continue to update them, by going here > then clicking on Oracle Software Technical Support Policies.
Next Steps for Oracle GRC Users
As a precautionary measure, we recommend existing Oracle GRC users begin to research replacement security products that will fit your company's needs and future requirements. Positioning your company to be prepared for the unexpected break in your system, or even proactively migrating to a new, supported application, is a beneficial strategy.
How Can Fastpath Help?
Here at Fastpath we offer numerous security, audit, and compliance solutions for Oracle users. Below is a list of resources for you to review and consider for your needs, and we'd be happy to chat when you're ready to, without the hard sales pitch.
Oracle EBS Security Resources
If you're interested in chatting with one of our Oracle security experts, please contact us here, or if you'd like to set up a customized demo, please request a demo here.
We would welcome the opportunity to help you navigate through these next steps with your Oracle EBS security.