Optimizing Your Workday Environment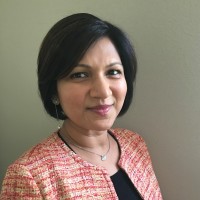 Workday is a rapidly growing ERP and HCM solution. Ranked a leader in Gartner's Magic Quadrant for Cloud Core Financial Management Suites and in Gartner's Magic Quadrant for Cloud HCM Suites, Workday now ranks 3rd behind SAP and Oracle in the global ERP market1.
Businesses around the world leverage Workday's single platform (Power of One) to transform their business processes, enhance the customer experience, increase operational efficiency, and leverage Workday's reporting capabilities for more proactive decision making.
Workday provides powerful features to help you realize your strategic business process goals.
It is important to work with your systems integrator (SI) to help you configure Workday to meet your vision of how your business will look in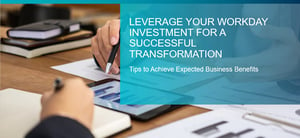 the future. Too often, these strategic goals are put aside once the system is in place. This is unfortunate, because companies should always be refining and optimizing their processes, and Workday can become the enabler to help with such continuous business process improvement.
Executive management should have a firm grasp of how they intend to reach their business goals from the very beginning of the Workday implementation, and that includes paying attention to how the company will handle data management, change enablement, governance and compliance, and security and controls. The SI will assist the business in implementing these tasks, but executive leadership must take responsibility and drive these tasks on behalf of the organization.
Key considerations for your Workday implementation
There are eight areas where the business should focus their attention before, during, and after their Workday implementation to achieve the maximum benefits of their transformation goals:
Project Management and Governance – The business should establish a PMO structure and overall governance plan, validate the plan's completeness, and continually monitor the critical risks to the organization. The internal executive leadership team should drive governance.
Organizational Change Enablement – Factor in enough time and effort to develop policies and procedures, and define new roles and responsibilities that will achieve your desired business process transformation - then deliver practical training to drive user adoption.
User Acceptance Testing (UAT) – The business must assume the responsibility of UAT and follow the critical steps from the preparation through the execution phases of UAT to ensure Workday was implemented successfully to meet your business requirements.
Data Conversion – No one knows your data like you do. Your system integrator will help you, but you should treat data conversion design and data cleansing as a top priority workstream and take ownership of the process.
Security and Controls – The solution design and architecture should seek to automate the company's security and control requirements as much as possible. Workday's security architecture is unique as goes hand-in-hand with business process design, and thus security constructs should not be an afterthought.
Business Process Readiness and Solution Design – Your business should leverage Workday features and functionality to its fullest advantage when designing the future state of each business process that will be impacted by the new system.
Data Governance – The business should establish strong data governance that extends beyond the successful rollout of the new system.
Reporting and Analytics – The business should plan for a complete inventory of key reports from the new system and consider the broader needs for analytics, including the need for data integration from external sources. Often considered as an afterthought, these reports and analytics should instead be decided on upfront and should drive your system architecture and system setup to help define your future operations.

Example: This upfront effort will help drive the appropriate Workday Financial Data Model design (i.e., Chart of Accounts) for an organization implementing Workday Financials.

Summary
Ultimately, your company is responsible for defining the vision for what to expect operationally from your new Workday system regarding each business process and for keeping that vision front and center throughout the implementation.
Your business should collaborate with your systems integrator at the start of the implementation to develop the future state solution design or a system blueprint. Such a design document will define how you envision your future business processes. This future state solution design will serve as a guide for the SI to leverage the features and tools within Workday to meet your business requirements and help you optimize your organization's business processes, create automated controls, and eliminate manual processes.
Learn how to make the most of Workday with these best practices in more detail by watching the on-demand video from our GRCDays sessions.
1 Source: 2019 Gartner, Inc