New Security Features in Dynamics NAV 2016
There are so many new features in NAV 2016 – truly making it the best release yet. There are some new features relating to security administration in Dynamics NAV that will make user creation and security easier.

The new features are:
Recording of Table Data permission
Grouping of Permission Sets
Adding related Table Data Read Permission
The ability to record table data permissions in NAV will make it easier to define what permissions a user needs. This new tool will record a user's actions and what tables they access, then you can create a new permission set that has the recorded permissions in it, ready for you to assign to your users. Olof Simren wrote a fantastic blog post with details of how and why to use this new feature.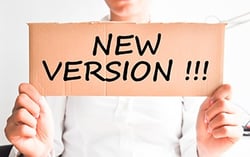 With the new feature of grouping permission sets, you can actually group users who share the same security needs and assign permission sets to the User Group instead having to assign it to each user. You will then assign the individual users to the User Group. This will help keep your individual permission sets smaller, which helps in testing any permission set changes. ArcherPoint wrote a really helpful detailed blog post on this topic.
And lastly, you can now add related table read permissions. When you are setting up your permission sets and have access to a table, you can easily add any other tables that you will need read access to for this table. This will help immensely in the look up fields and fact boxes, where there are table relations between two tables.