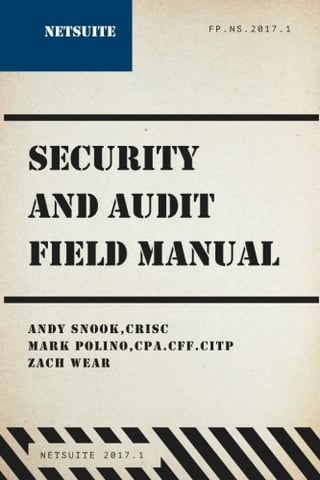 Hot off the press! The 2017.1 Edition of our NetSuite Security and Audit Field Manual is available in paperback and Kindle Edition on Amazon.
Like the first edition, our second edition covers the six ERP security principles and how to apply them in NetSuite including:
Access Review and Certification
Role Management
User Provisioning
Emergency Access Management
Monitoring
Segregation of Duties/Risk Assessment
You will also discover crucial new feature information just released in 2017.1, including improvements to:
Two Factor Authentication
General Ledger Impact Logging
Absolute Session Timeouts
For anyone struggling with security design, access control, security setup, customizations, scripts, or the auditing of NetSuite, this book is for you. By the time you are finished reading, you will understand key theoretical control principles and how to apply them in NetSuite.
For more information or to order a copy click here.