Fastpath Can Help Reduce User Licensing Costs in Dynamics AX 2012 - Really!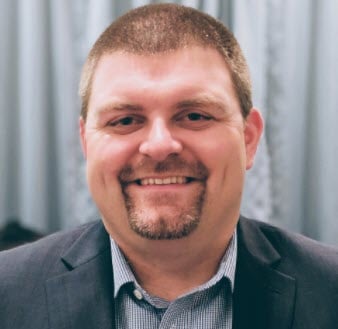 We realize that trying to reduce user licensing costs in Dynamics AX 2012 can be a confusing and frustrating process, luckily there are features within the Fastpath solution that can help with this process. Read on for an overview of how to navigate through the process and potentially reduce license costs.
How Licensing is Determined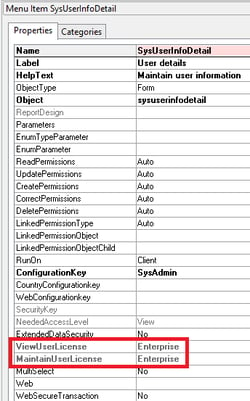 User licenses within AX are determined by analyzing access to entry points (menu items). Each entry point in the system has two parameters that pertain to licensing that are visible in the AOT: ViewUserLicense and MaintainUserLicense. If a user has Read access to the entry point the user requires the license listed in the ViewUserLicense parameter, if the user has the ability to maintain the entry point (update, create, or delete) then they require the license listed in the MaintainUserLicense parameter.
In Dynamics AX 2012 there are 4 hierarchy-based license types:
Enterprise User (highest)
Functional User
Task User
Self-Serve User (lowest)
From a pricing perspective, the higher the license type is in the hierarchy the higher the cost associated for that license. With this is mind, it is very important to not over provision a user's access and be charged for a higher license than is really needed. Along with this idea it is also important to note that the highest user license a user is assigned, based on their access, will be applied to that user. By that I mean that if a user has access to 100 entry points and only one of those entry points is at an Enterprise level that user is required to have an Enterprise license.
How Does Fastpath Help?
We have a number of reports that will help you dive deep and determine how each user, role, duty, and privilege are requiring a particular license type. We also have functionality to help determine the objects required for a business process, which allows you to better understand a user's licensing requirements. Let's look at some of the reports and features!

Role License Report
This report shows each role within your environment (custom or standard) and shows which license is required for each. We also take it one step further and show the number of entry point accesses at each license level. This gives a breakdown to show where there are potential places where role access can be modified to reduce license costs.



This report is also available at a duty and privilege level.
Role License Details Report
The role license details report shows each entry point access for each role and then shows the access type and license required for that access. This allows for determining what object access may need to be modified to reduce license costs.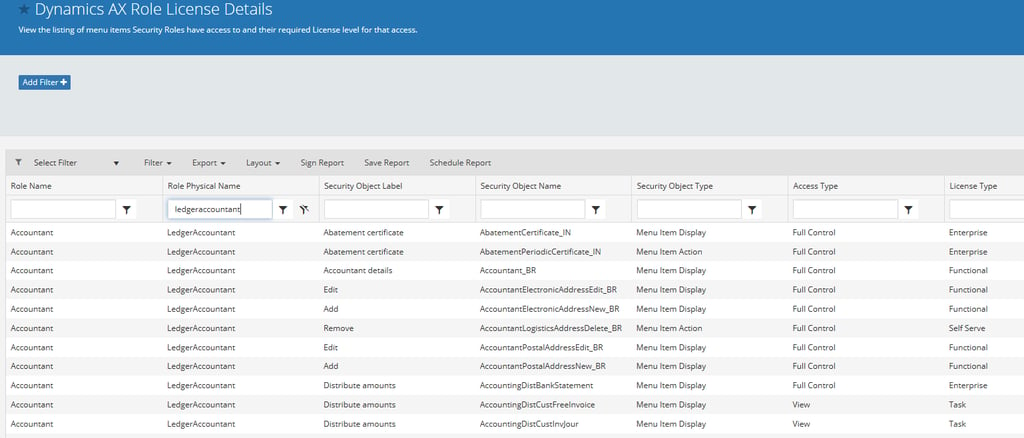 User License Report
The user license report shows the license required for each user based on their access. This report again shows the break down of the entry point access by license type. It also considers whether the user is assigned the system administrator role when determining licenses.


User License Details Report
The user license details report shows the user to role association and then each entry point those roles have access to, the access type of each entry point, and the license that the particular access requires.

What About License Help When Designing/Configuring Security?
Within our Security Designer module, we have features to help with user licenses. The main feature is our task recording analysis tool, this tool allows for using native task recording functionality within AX to record a user performing a process within the application and bringing the recorded output into Fastpath and analyze it. The analysis will show the menu items used during the process, the access type required, and the license required for each menu item.
In the example below, the task of creating a vendor within the application was recorded. The output of that task recording was then taken to Fastpath Security Designer and analyzed. You can see the menu items used during the process as well as the license type required for each menu item as well as for the task itself. In this case we know that if we want a user to be able to create a vendor that user is going for require a task license to perform that task..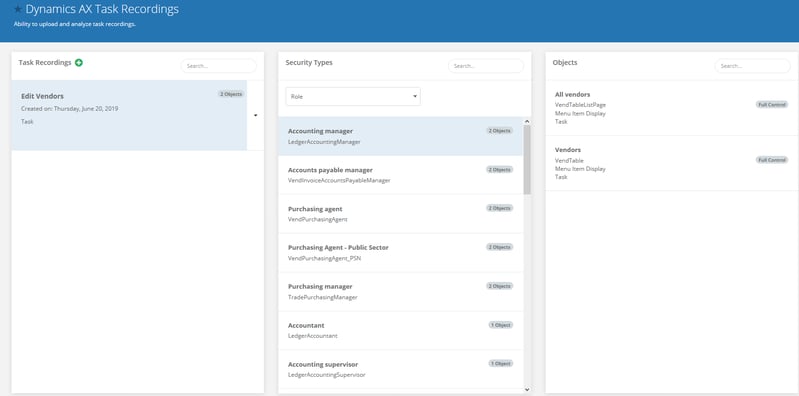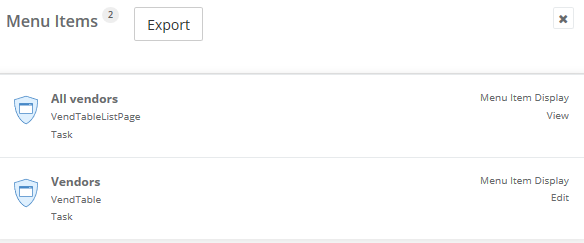 This feature helps to set up least privilege security, you can read more about what this process is and why it is important in our "Develop And Implement Least Privilege Security For Dynamics AX" whitepaper.
Conclusion
We hope this has shown how the Fastpath solution can be used to help reduce licensing costs and give better insight into how licenses are being consumed within your Dynamics AX environment. Please check out the additional resources below for even more insight into this topic.
Additional Resources
Determining User Licenses in Dynamics 365 for Finance & Operations
Microsoft Dynamics AX 2012 R3 Licensing Guide
On-Demand Webinar: Develop and Implement Least Privilege Security for Dynamics AX