Fastpath Adds Frank Vukovits as Vice President of Strategic Partnerships
We're happy to announce we have a new member of the Fastpath team. Many of you probably already know Frank Vukovits, as he co-founded the AXUG (the Dynamics AX User Group), and went on to help establish GPUG, NAVUG, and CRMUG.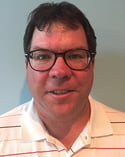 Prior to the user groups, Frank held corporate IT audit roles, and he carries Certified Internal Auditor and Certified Information Systems Auditor designations.
In his new role, Frank will work with all the Fastpath partners – Audit Firms, ERP Partners, VAR partners, and other strategic partners. He will continue to foster the relationships our team has built with these valued partners.
Frank has been an honorary member of the Fastpath team for many years, we were one of the first premium partners of GPUG and longtime premier sponsors of the AXUG and GPUG Summits. Over the years Frank has collected many versions of the infamous Fastpath Koozie – and even gets photo credit for many of the photos on our Instagram page.
In his free time, you can usually find Frank coaching soccer for his children's team – or taking his middle son Austin to junior golf tournaments around the country!