We'll be at NAVUG Summit 2015 in Reno, NV - Will You?
Join Fastpath and your Microsoft Dynamics® NAV peers, including Microsoft MVPs, subject matter experts, and Microsoft staff at this year's NAVUG Summit event taking place October 13-16 at the Reno Convention Center located in Reno-Tahoe, Nevada.

Here's what you need to know about NAVUG Summit 2015: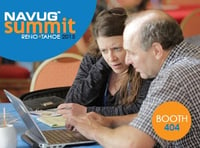 Book your flights early – There aren't a lot of flights each day – and the available flights are filling up fast
Begin your networking before you go! Be sure to go to NAVUG.com – click on "My Communities" from the home page, find the NAVUG Summit 2015 Reno – and click on the words "NAVUG Summit 2015 Reno" to enter and join the conversation
Plan your sessions – There are so many sessions to choose from. Before you arrive, check out the session catalog and pick the ones that look most valuable to you.
Mark your calendar for FPUG - What's FPUG? That is our annual Fastpath User Group Day. This year it will be held on Tuesday, Oct. 13 - the day before NAVUG Summit begins. Learn more.
Dust your bowling shoes off - We will be hosting at party at NAVUG Summit on Thursday, Oct 15. We'll be at the National Bowling Stadium where there will be 78 lanes of bowling, a DJ, dance floor, and beer!
Not registered yet? Use this code: SUMNAVFASTPATH2015 to save $100 on your registration fees!